about us
Tangerine is a kickass community in Brooklyn where people can wind down, connect with others and enjoy a playful yoga practice that's powered by the teachers.
We empower our teachers to lead a practice that is unique and true to their own style, providing experiences for every student — whether novice, intermediate or experienced. Coming from a variety of disciplines and backgrounds, our teachers are the heart and soul of Tangerine.
We offer a variety of heated classes (to around 90 degrees) and non-heated classes, emphasizing the flow of breath while creating a balance of strength and freedom in poses. This practice is open to every BODY and our teachers may make hands-on adjustments or use props to heighten your experience.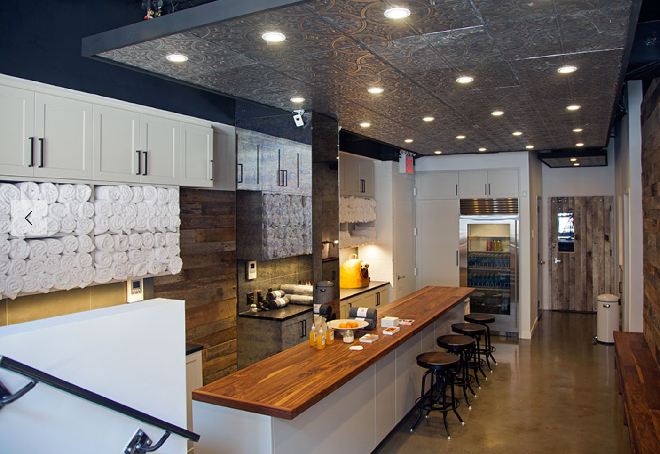 studio
Tangerine is designed to make you feel right at home. Our bar-like layout with lots of seating was created to encourage community, camaraderie and chill time before and after class.
Inside the studio, you'll find state of the art props and clean, non-slip Manduka yoga mats made from tree rubber — biodegradable and non-Amazon harvested — so there's no need to haul your own. Infrared Heating Panels provide the perfect hot yoga temperature (imagine a beautiful hot summer day) and also help us be energy-efficient.
The changing rooms are equipped with lockers with built-in locks so you can securely stash your stuff until after savasana. You'll also find all-natural products throughout the studio and will be given a lavender and eucalyptus cold towel after class to help you cool down and freshen up.
We hope you feel the love as much as we do.
tamara's story
In 2009, Baron Baptiste asked me to close my eyes and imagine myself five years from now. I said to myself: "I'm going to own a yoga studio in Brooklyn." It was the first time the idea came to my mind, yet all of the sudden I had this drive, this fire.
I started training a year before, in 2008. I loved my job: I was successful, I was doing interesting work, I was working at a leading ad agency, I was making great money. But I always felt like I was missing something and that I needed to do more with my life. My search for answers started with training — I had no idea it would lead me to Tangerine.
At first, I had no idea what I was doing. There was no book on how to open a yoga studio; I didn't have a step-by-step guide showing me the way. So everyday, I took 3-5 actions that would help get me closer to my dream. I set up meetings with anybody I could: business owners, yoga teachers, contractors, architects. The only power I had was words — that was it.
One day, I ran into a student who happened to be a commercial real estate broker. She asked what I was up to and I told her. "I can help you," she said. That's when it all started to happen.
Against everyone's advice, I started looking at spaces. I didn't have money, I just had a dream. Most mornings, I woke up with a pit in my stomach. I wondered if I was crazy. I wondered if everybody was right. I had to dig deep to keep going, push through the negativity and hold onto my passion. But every time I felt doubt, I remembered this:
"There came a time when the risk to remain tight in the bud was more painful than the risk it took to blossom." – Anais Nin
Even as I started to make progress, I hit walls. I tried to sell my apartment, but I knew it wasn't the answer. I searched for investors, but couldn't find the right fit. All signs were pointing to no, but I did my best to stay relaxed, calm and focused on my dream.
In May 2014, I got the call. There was a space available a few blocks from my apartment. I jumped on the opportunity to see it, brought my architect, and confirmed what I deeply hoped to be true: it was a great space for a yoga studio.
Two weeks later, the same woman that had initially offered me help told me she knew an investor. I sent him my business plan and by his first response, I knew he was a great fit. He was exactly what I was looking for: passionate, intelligent, kind. Two weeks after we first met, he offered to be the sole investor of the studio. And the rest is history — nearly.
We signed our lease on Oct. 9, 2014, five years from when I first manifested my dream of opening a studio. And though no construction projects come without bumps (and some bruises), Tangerine opened.
What's happened in the years since has exceeded my expectations in every way. The community (you!) has opened its arms to the studio and made it the incredible place it is today. And guess what? This is what I was meant to do. And despite all odds, I did it.